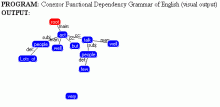 Description of state-of-the-art Natural Language Processing Technologies. Topics concerned include POS tagging, Text Parsing, Automatic Text Summarization. A lot of information on successful linguistic enterprises and research groups is also provided.
Введение
Исследования и разработки в области автоматической обработки текста в Европе и США привлекают внимание крупнейших частных фирм и государственных организаций самого высокого уровня. Европейский союз уже несколько лет координирует различные программы в области автоматической обработки текста. Например, Human Language Technology Sector of the Information Society Technologies (IST) Programme 1998 - 2000. Один из наиболее интересных проектов в рамках данной программы SPARKLE (Shallow PARsing and Knowledge Extraction for Language Engeneering). В числе его участников - Dimler-Benz, Xerox Research Centre in Europe и Cambridge University Computer Laboratory. Цель проекта боздание частичных синтаксических анализаторов для основных языков Европейского союза.
В США с 1991 до осени 1998 года существовал проект TIPSTER, организованный DARPA, Департаментом Обороны и ЦРУ совместно с Национальным Институтом Стандартов и Технологий и Центром военно-воздушных и военно-морских вооружений (SPAWAR). В работе консультативного совета программы участвовали также ФБР, Национальный Научный Фонд и некоторые другие организации. Основной целью программы было сравнение и оценка результатов работы различных поисковых систем и систем реферирования.