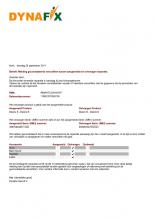 I bought an HTC Desire S smartphone in June. Since then, I sent it three times for repair to
Dynafix
, which is apparently the HTC Repair Center for Belgium. For the 3rd time,
Dynafix
replaced the mainboard for my phone, which fixed the original problem. However, I quickly noticed a new and easy to reproduce problem that I communicated to the HTC call center. I was told over the phone that I will get a replacement unit. However, after returning the original unit to th repair center, the only thing I got was a discrepancy report saying that I returned a phone with a different IMEI number than the original. Of course it was different,
Dynafix
replaced the mainboard, so it had to be different! I am waiting for weeks now to get the promised replacement.