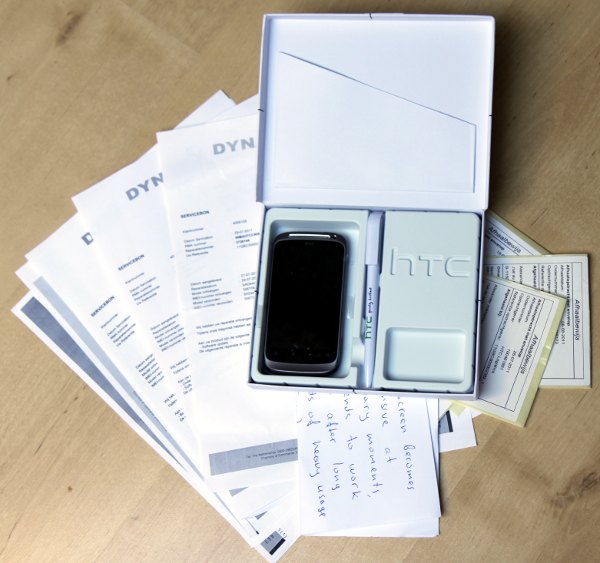 I bought a Desire S smartphone a little more than 2 months ago, but did not have a chance to really use it, yet. It came with an elusive and odd bug. The touch screen stopped responding once in a while. This could occur any time, but seemed to happen less frequently after 5-10 minutes of active use.
The first time I sent the phone to repair, it came back with flashed ROM, but the problem stayed.
The second time I sent the phone for repair, it came back with a new touch screen, but the problem stayed.
The third time, the repair shop replaced the motherboard. The initial problem disappeared, but the phone gained a new one. Part of the screen was not reacting to touch. Or rather, every time you touched a certain area on screen to select an item, items around it were selected or nothing happened.
I filed a 4th support request today.
Overall, I took no less than an hour talking to the call center, wrote several emails and paper notes to HTC and to the repair shop, recorded a video to demonstrate the bug and uploaded it to HTC, filed two complaints online and took a good hour each time it returned from the repair shop to setting it up and find ways to reproduce the problem.