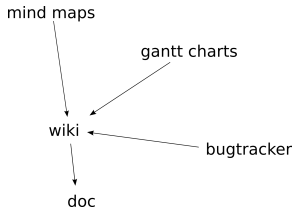 Looking back to my last review of different tools used in project management, I figured out that this review is a a recipe for yet another ideal project management tool.
Such a tool should be useable throughout the whole project lifecycle by providing a common interface for editing mind maps, Gantt charts and bug reports. It shall also be possible to link each of the three types of documents to the technical and business documentation contained in the project wiki. Such a wiki, to be really usable, should allow to export an arbitrary collection of pages into one single Word, RTF or ODF document, while keeping the hierarchical structure of the above mentioned collection.
Easy? Yep. Has anybody done this already? Nope.